Welcome, ladies and men to your first Judging Panel!
As you all know, 14 of you began this competition. What you may not know is that two of the original 14 failed to complete a photoshoot and have been AUTOMATICALLY dropped from the competiton. Although the number of models in this competition has just changed dramatically, it is about to change again!
Let me introduce you to our judges:
Nigel Barker- xXCircaSurviveXx
Janice Dickinson- loisen187
Twiggy- llevinso
"Miss" Jay Alexander- chocolatcortes8
Guest Judge- Massimo Costoli- PortugalPauleta20
Before we look at the photographs: This week, you all had a challenge which tested your knowledge of other models. Out of all 12 models standing here, only 5 of you got every answer correct. However, we can only have one winner, who was selected at random.
So, the winner is....
finchie8
Congratulations, you have won...
IMMUNITY! You cannot be eliminated at this panel, congratulations!
Now to the photoshoot. This week, y'all completed a high-end beauty ad and had to choose an unusual and edgy item to place on your face or head. When i call your name, step forward and the judges will evaluate your photograph.
First up is... Audrey
Lets see your best shot:
NIGEL: It's very creative. The make-up was done well and the necklace is a nice touch.
TWIGGY: I really like this shot. I think you really understood the concept and went with it. I just wish you had a little something extra behind your eyes.
MS JAY: Great beauty shot, something as simplistic as paper really brings out the edginess of this photo.
TYRA: I agree, the eyes could do with an extra little oomph, but i think they are still very captivating. I really do love how creative you got with this shot, you didn't just slap an object on your head, you really crafted something and made an effort. Well done.
MASSIMO: Your eyes are awesome! Good job, one of my favourites.
Next up is...Jono
Lets see your best shot:
JANICE: What's this...is that a cucumber? What's that doing in your face?!
TWIGGY: I'm also a little confused by what is on your face to be honest and I think that takes away from the picture. The expression you seem to be giving is like a f@ck off/don't care and that could work interestingly I think...
TYRA: But it don't! You do look kinda angry in this picture especially around the mouth, so make sure you relax your face a bit more next time. Otherwise, I like it, it could be really powerful.
NIGEL: The eye make-up was good, it's nice to see the guys using a bit of paint!
Next up is...Avess
Here's your best shot: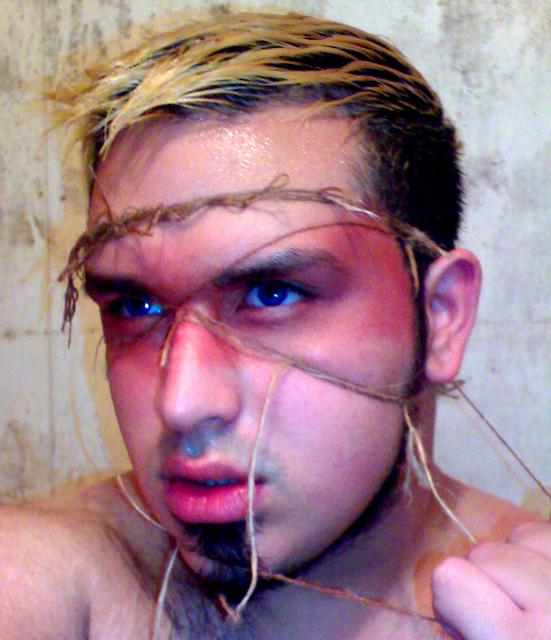 MASSIMO: The hair, nice. The facial expression, nice. The "material", nice. The red dye, nice. The only problem I have with the photo is the sweat. It's pretty gross.
TYRA: Are you serious? That's my favourite part! It really adds a lot to the whole composition and mood of the photograph! Which is really powerful. I was blown away by this picture, its FIERCE!. Great job.
TWIGGY: Yeah, I love the intensity in your face here. The emotion really comes across well. And I like the makeup and string/wire that you used. I think it all really brings the picture together
MS JAY: Great shot. I have nothing bad to say about it except maybe try to find the light more with your eyes next time instead of looking down.
Ok, thankyou, Avess!
Next we have…Ana
Here is your best shot: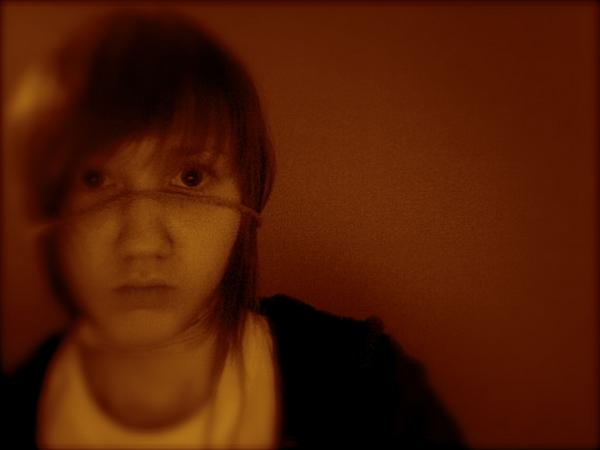 MASSIMO: I wish you made the photo more creative, instead of a rope wrapped around you head.
TYRA: Yeah, if you look at Avess' shot, he is using the string and it really has a purpose, but i feel yours was sort of just...there. You are very beautiful though and have great features, just maybe think a little more about what you could do next time.
NIGEL: This wasn't creative at all, the picture was all blurred and I didn't think it worked that well at all.
TIGGY: I really like the feel of this photo. It's kind of eerie. Same thing with Audrey_Horne though, I would've liked a little more emotion in your eyes.
Up next is...finchie8
Here is your best shot:
TWIGGY: The camera loves you! Your skin looks gorgeous and your eyes have the perfect "squint" to them.
JANICE: What is with the hair? It's slighty messy.
TYRA: Girrrrl, you don't even need that immunity, this picture is amazing. And that messy hair can be airbrushed! My favourite so far, Im loving the little smirk, and your eyes...Wow.
NIGEL: The white fabric seemed a bit granny-ish, but it was good.
TYRA: Funny you say that Nigel, coz it came from her grandmother's attic!
Thanks, finchie!
Ok, next we have...Kazara
Lets see your best shot:
MASSIMO: Your face is very beautiful!
NIGEL: This pic just doesn't work for me...the tiara didn't work at all.
TWIGGY: Your face looks a little blank. You take away the head piece and it looks like just a regular head shot, not a beauty shot.
TYRA: Thats the first thing i thought too. It does fall a little flat, which is disappointing coz you are so beautiful! You can't just rest on pretty.
Next up is...HurricaneMimi
Lets see your photograph:
MASSIMO: The item is not really apparent in this photo. If it was a regular beauty shot, it would be great. But the whole point of this photo shoot was to use an item to make yourself look good.
TYRA: Yeah, it took me a while to see what your item actually was, it wouldve been good for you use it a bit more within your shot. But otherwise, i really like this picture, very soft and gorgeous. Just a tip- this goes for you too, DammitBunin- if you are using a webcam to take your pics, make sure you are looking DIRECTLY into the camera, rather than at the screen, because its very obvious.
NIGEL: I didn't see anything in this pic other than awkwardness. Sorry.
TWIGGY: I like the make up but I think you need to learn your angles a little better so that way the makeup won't make your facial features seem as harsh. I actually love the clothespin in the hair too!
Next we have...Casey
Lets take a look at your shot:
JANICE: Your face seems to sink. You need more intensity.
MS JAY: Good shot. Try to push the boundries and not go for something as simple as maybe glasses or hats. Even though the glasses are cool. Next time Id like to see you step it up outside your comfort zone.
TYRA: Yeah, i gotta say, i wasn't too convinced that you even read the brief. If this was a shot for sunglasses or I dunno, Adidas, it would be 10/10. But this was supposed to be a BEAUTY SHOT using a CREATIVE ITEM. Try to read what you have to do very carefully and understand that every single word is there for a reason.
TWIGGY: I would have loved to see your eyes but the glasses completely hide them and they're a bit distracting. No connection whatsoever.
Up next is...MillaJ-Joe
Lets see your photo:
NIGEL: Very intense facial features and the improvising of the black string worked well.
MASSIMO: I honestly don't like this photo. It's very plain and the sweatshirt string is covering half of your eyes.
TWIGGY: Oh, i disagree. Even though the string is in front of your eyes it's not blocking them at all. I can still feel the intensity in your eyes. It's simple yet powerful.
TYRA: Mmm, youre right, even though they are half covered, i dont think it detracts from them at all, they are really pushing through strong. Which i must commend you for, its very difficult to do. But i can do it! Watch *covers eyes completely with hands* And they still shine through! When i was in Paris as a teenager, photographers would be shocked by how well i could do that and the models I was living with at the time were very bitchy and jealous of my gift. Back to the photo, the one thing i will say is this- when your face is on that angle, make sure the right eye doesnt give a crosseyed effect...see how its right in the corner like that?
Next we have...CozyTombRez
And here's your photo:
TYRA: Another one who didn't follow the brief! If there was a little more oomph behind the eyes and an item involved like we had asked, this would be a top picture.
MASSIMO: There's no material! And that's the whole point of this photoshoot! Although you look very pretty you can't just rely on that.
NIGEL: The make-up was very nice but there was nothing really creative about it.
TWIGGY: I would've liked this shot more if it was framed tighter around your face and you showed a little more intensity in your eyes or mouth. But I love the wild curls of your hair!
Next is...only_a_name
Here's your photograph:
MS JAY: When i saw this pic, i busted out laughin!
TYRA: Yeah, overall, it was a very interesting concept, but it looks like you've been in a moist toilet paper fight and are looking over at your friend having a good laugh about it, while, for some reason, documenting the process on your camera! Its disappointing because you are very beautiful and could've pulled off a really good shot if you had tried harder.
NIGEL: It's precious though.
Last, we have...flake_baby_kitten
Now, we actually do not have a photo to present do we? Let me explain to the other judges. Flake sent me a link to her photograph, very late might i add, but it didnt work and she did not end up resending it in time. Because of this, you SHOULD be eliminated immediately like the other two. However, I was impressed by your enthusiasm and your sincere apology and your audition photo shows great promise.
Thanks, flake_baby_kitten!
Now it is time for the judges to deliberate!
Last edited by Leelee_Tyra on Sun Feb 05, 2017 3:28 pm; edited 1 time in total
Admin




Posts

: 98


Join date

: 2017-02-05


Age

: 30



TYRA: *does 'serious' face* Welcome back, ladies and men. I have 12 gorgeous human beings standing in front of me, but I only have 11 pictures in my hands. If i do not call your name, you must go back to the house, pack your belongings and leave.
The first name I'm going to call
is...
Audrey
Congratulations, you are still in the running towards becoming IMDB's Next Top Model! You were the only person to have a place in every judge's Top 3, so well done!
Next is....
finchie8
Avess_thestrange
MillaJ-Joe
Jono
HurricaneMimi
Kazara-1
Casey
CozyTombRez
The next name I'm going to call:
Ana
Will flake_baby_kitten and only_a_name please step forward.
flake_baby_kitten, the judges were disappointed by the fact that you did not even supply us with a photoshoot. If you do not have time for this competition and cannot meet a deadline, why should we keep you in?
Only_a_name, the judges struggled to find something positive to say about your picture, other than "you are a beautiful girl". There was little effort put in. And if you cannot even display this beauty in a BEAUTY shot, how do we know you can pull off other photo shoots?
Girls, despite these comments, you are both very beautiful and have great potential to succeed in this competition. However, a decision must still be made. The judges have decided that
you are BOTH...
SAFE! I believe you both deserve a second chance, so don't disappoint me next week!
Ladies and men, you may remember me saying at the beginning of panel that today the numbers will change. Nobody has been eliminated but i am a woman of my word. In the fashion industry, fresh faces are arriving into the scene all the time. This week, we lost two people before panel even began and one of them MUST be replaced. Will you please welcome...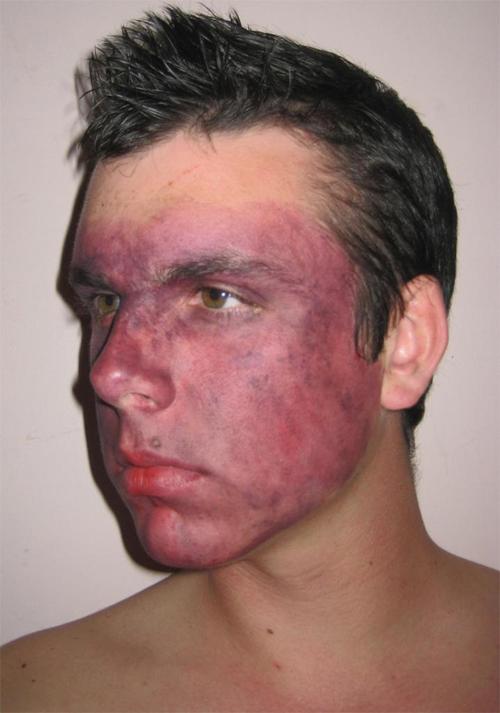 StevieMc!
Admin




Posts

: 98


Join date

: 2017-02-05


Age

: 30




---
Permissions in this forum:
You
cannot
reply to topics in this forum