Welcome ladies and men to your Third Judging Panel! By the end of today, another model will leave the competition and everybody left will be one step closer to becoming the first IMDB's…Next…Top…Model. This week, you had to pose as aliens! We wanted to see interesting and contorted body positions and funky colorful clothes and makeup. We were also looking to see how well you could portray a certain story or idea.
Ok, first up is…HurricaneMimi. Here's your best shot: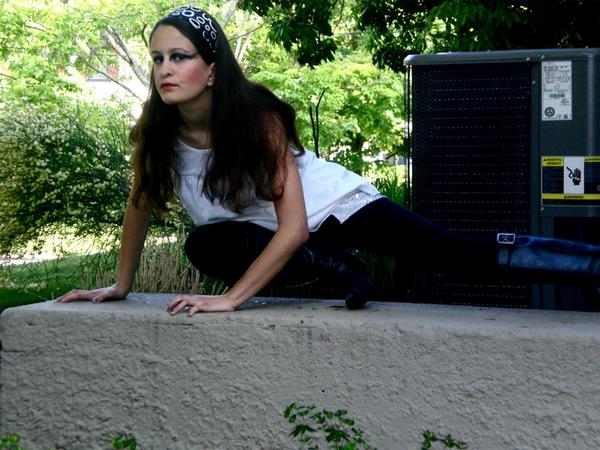 Mr. Jay- This shot is good don't get me wrong, but it is oh so boring! Your pose is fantastic, it really is, however the face makes me think that you were bored while doing this and it definitely makes me think so in this photo. Next time learn to take risks in your facial poses.
Janice: It seems too nice. You positioned yourself quite nicely like a tiger lying in ambush but your face is not even close. You have to work on that.
Twiggy: Don't ask why, but for some reason you remind me of a lizard. I think it's your eyes. They're very narrow and kind of creepy looking. And you're body position being long but all slinked down like that contributes to it I'm sure. I really like it.
Tyra: Yeah, I really like this too, the body positioning is great. The story I get from it is sort of a frightened, cautious alien, and that does show in your face, I dunno if on purpose or not, but if it is, maybe try to push it a bit further next time!
Next is…Audrey_Horne:
Mr Jay: This shot is GAWGEOUS! I definitely see that you have come to earth in order to 'seduce' me!
Janice: Your face is fabulous but your pose didn't nail it for me. You look like you're waiting for the bus. You should take more risks.
Tyra: Yeah, I feel that every week now, you've been giving us so much in the face that we don't really notice that you aren't giving us so much with the body. The face is great here, but the body seems a bit…I dunno…lazy.
Twiggy: This is my least favorite pic from you, but it's still not bad. This just kind of looks like your waiting for a bus and someone told you to make a sexy pose.
Next up is…StevieMc!
"I tried to make it seem like I was attacking a suburban home by entering through a top floor window and killing whomever I came across"---- Best shot:
Tyra: Love it. Love it love it. This was the best in telling a story I thought, so you nailed that well done. I love how intimidating it is, you actually look like you are gonna jump off the screen and attack. Very smart and creative choice.
Janice: I bet it's difficult to hold that pose to get a good picture but it was worth it. You look like you came right through the window and are ready to strike. Great picture.
Twiggy: I like your body positioning. If your back arm was out a little further though it'd be better because then it wouldn't look like you just have some fingers coming out of your back. I like the intensity in the face too.
Mr Jay: I don't like this picture. Your eyes need that extra oomph to take it to the next level. The pose is good and everything but the face needs some work.
Tyra: No way! His face was one of the best in the bunch. You blind, Jay!
Thanks! Next up is…Avess. "MY HAIR GOT MESSED UP IN THE RAIN!
SO WE HAD TO DO IT IN THE SHED!"----Best shot:
Janice: The way you use make up and the intensity of your face is awesome. But you're lacking in the story telling.
Mr Jay: Your eyes are so intense. However, I don't understand the concept or story behind this picture, I dislike the hard look on your face, and all I see is a model tangled in wires with a lot of makeup on! Overall I think you could produce a better shot.
Tyra: Mr Jay, what are you on tonight?! The story I get is that the alien has been trapped and is trying to escape, which was a really interesting and original concept. The face is SPOT ON, it really is a great picture, its FIERCE! The only criticism that I have is that I wish we could see more of your body. The brief said we wanted contorted body positions. And there really isn't an excuse for not having that this week, like in previous weeks, coz you had someone else photographing you! I wouldgve loved to have seen a leg tangled in somewhere. But still, great shot.
Next up is…finchie. "Here I am as a sexy, seductive alien from the planet Sexulon 12. Earth men cannot resist my aggressive and alluring charms. While all the men (and some women) of Earth are preoccupied with me, the rest of my race is busy destroying the planet!" *judges laugh* Best shot: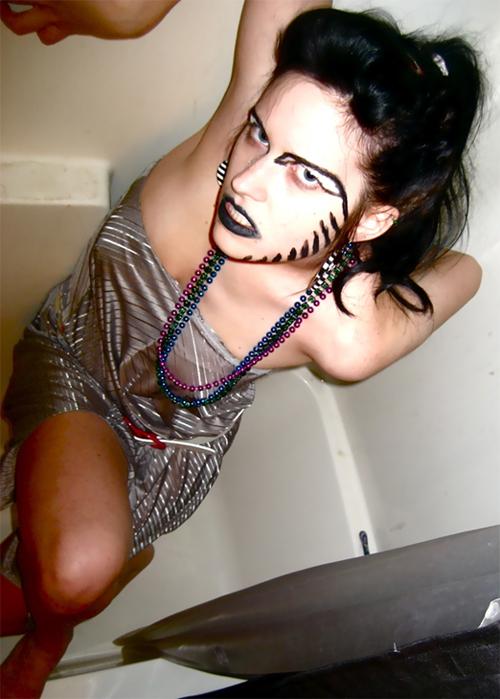 Janice: This is a hot shot! I could totally see a guy taking you home and then getting a surprising occurrence. Really Sexy.
Twiggy: You scare me here. The makeup, your face, you just creep me out!
Mr Jay: This shot to me is the best in the bunch. purpose on earth, as an alien, is clear- to destroy all the humans on earth with your amazingly good looks! Terrific job!
Tyra: I had a really hard time choosing a photo for you, because I loved them all. You really did no wrong this week. I love the face, love your shoulder poppin' out, its great, well done.
Next model is…Jono. "The vorpal bunny. Seductive, dark and curious!"
Janice: It has a lot of an Easter bunny searching for the eggs feel. Your background looks very good but you could have done better. I know you can
Twiggy: I'm not a big fan of the body position here. I do get the story, and I like the element surrounding you and everything, but your body looks squished. You're crouched down and missing an arm.
Tyra: I've gotta say, I was disappointed in you this week. I think you've taken a big step back. Either that, or there's sabotage afoot with your friend Avess!! You had an advantage this week with your extra frames, but I didn't feel you gave me enough of a variety. The story was there, but its not really a model shot. Face was great this week, though.
Mr Jay: I am seeing a story, but this shot is just horrendous. You're slouched over and it makes you look short and/or having menstrual cramps. One good thing I will say about this picture is your choice of scenery!
Ok, thanks! Next up is…Ana, here's your best shot: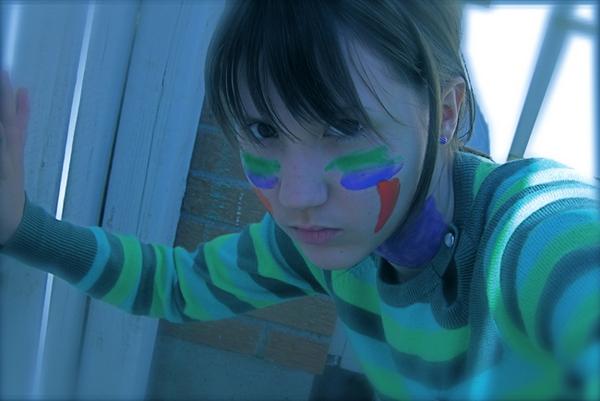 Janice: The pose isn't as striking as the rest of the models.
Tyra: Yeah, you really never push it with your poses, you are always quite safe. I know it is hard when you are taking the pictures yourself, but not impossible. Face is incredible though.
Twiggy: Your face is just gorgeous. Your eyes are exactly what I've been looking for out of everyone for the past two weeks!
Mr Jay: Wow, your eyes are really good in this picture, however as a whole I feel like its missing something. Overall it's a good face shot but I'm not getting the whole 'alien' vibe from you.
Next up is…MillaJ-Joe. "I went for a more high-fashion alien look rather than a cartoony one, so I hope you like!" Here's your best shot: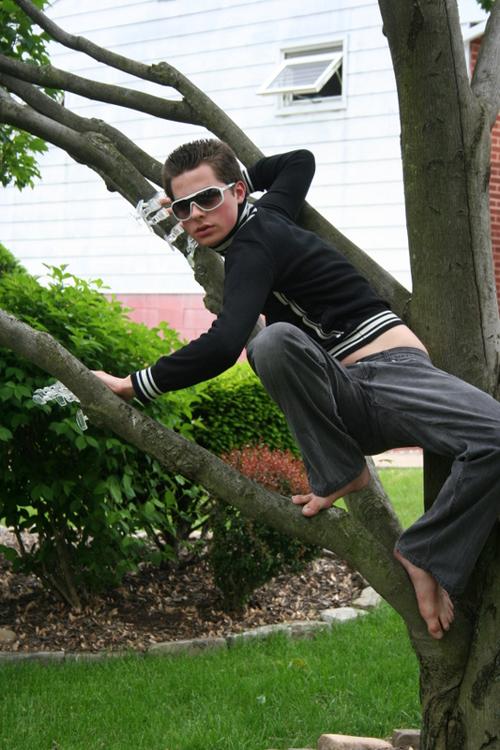 Janice: OMG Milla-Joe, your body pose is crazy!
Tyra: You impressed me the most this week with your film, I loved every shot and this was another difficult one to choose. The reason I did choose this one though was for the pose. Its by far the best pose of the bunch, I asked for contorted and you gave it to me. Every week there has been something blocking your eyes- string, blurred sides of the photo and now sunglasses- but every week, I still feel the connection, so well done!
Twiggy: I really like the body positioning here. It shows a story in my mind
Mr Jay: Honestly those things on your fingers are so distracting! Your face is terrific, however in looking through your portfolio you tend to give one 'fierce' look. This shot does work and I can see a story, good job, but really try to vary your looks and I think you will be good to go!
Thanks! Next model is…Kazara. Best shot: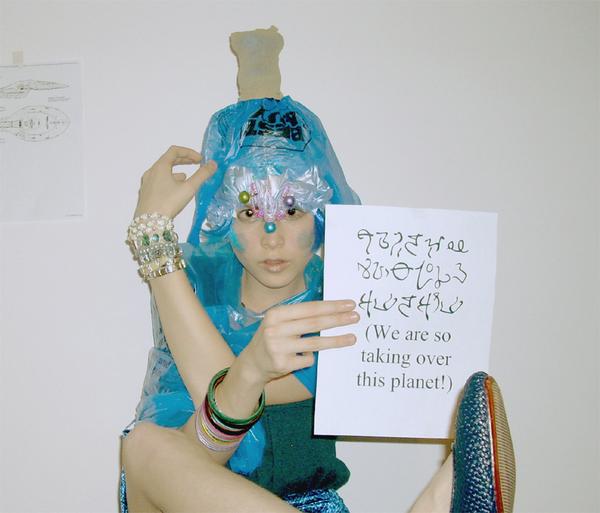 Mr Jay: This photo is good but I am so distracted by everything going on. Your face and body poses are just great, however i just wish there wasn't all that going on around you. If you continue on with this progression your making and tone down the "odd- factor" in your photos you could definitely be one of the front runners.
Tyra: Oooh, big words Mr Jay! I absolutely love this shot. The pose is interesting and this may sound strange but I LOVE how long your fingers on the page are. I really adds to the oddness of the whole set up. Its great, you really are stepping up in this competition!
Last we have…CozyTombRez. "I'm going for the sexy lurking alien, obviously. I only come out at night because my race is sensitive to the sun. I am stalking around campus in search of victims"---Best shot:
Mr. Jay- I have been a fan of yours since day 1! Though this photo doesn't completely capture the alien-esque vibe like some of the other photos have, but you look great and I feel it working in this photo. Work your facial poses a little better, and be a little more creative, dont be afraid to take risks.
Tyra: Like for finchie and MillaJ, I had a really hard time choosing a shot, but for the opposite reason- I didn't like ANY of your shots. I thought you looked really bored and the poses seemed kind of lazy. Which was disappointing because I loved your shot last week. Don't disappoint us again!
Ok, I will now ask you to leave the room while the judges deliberate! When you return, one of you…WILL…be…eliminated.
Last edited by Leelee_Tyra on Mon Feb 06, 2017 7:02 am; edited 3 times in total
Admin




Posts

: 98


Join date

: 2017-02-05


Age

: 30



*****ELIMINATION PROCESS MISSING*****

Callout order:

Finchie
Joey
Kazara
Audrey
Stevie
Cozy
Mimi
Avess

BOTTOM 2:

Ana and Jono

ELIMINATED:

Ana
Admin




Posts

: 98


Join date

: 2017-02-05


Age

: 30




---
Permissions in this forum:
You
cannot
reply to topics in this forum