Welcome ladies and men to your Fourth Judging Panel! This week, you each shot a commercial photo shoot, selling Secret Deodorant. You also had an interview with Mary Hart and the 5 most successful went on to have an interview with Janice Dickinson! In the Mary Hart interviews, everyone handled the questions very well and the scores were very close. However, the interviews with Janice exposed a very obvious winner. This person is...
Spoiler:

CozyTombRez! Congratulations!
You have won…
Spoiler:

3 extra frames at the next photo shoot!
Ok, let's get ontp the evaluations!
MillaJ-Joe, you're up first! Let's see your best shot:
Janice: You're showing off your body amazingly. I can totally imagine it on a big billboard at the streets
Mary: Good job on the pose, it's definitely model-y, and you rock the white shirt and jeans look. I like your lips in this picture. You sell the product well, I like it, but I hate that I can't see half your face because it's covered in shadow.
Tyra: I actually like the shadow, it adds to that "mystery" that I think you were going for. For me, I think it is a little bit too suggestive though, with the catchphrase and the lifted shirt. Good shot though, overall.
MsJay: Good pose, look very "secretive", you have become a force to be reckoned with.
StevieMc, you're next! Best shot is:
Janice: You're smiling with your eyes and i love it. It's interesting how you can perform different looks. The last time it was a striking alien and now a pretty commercial shot with a natural smile
Tyra: After loving your shot last week, I was really disappointed with the lack of creativity here. It probably wouldn't grab a reader's attention in a magazine. It's not necessarily a BAD shot, it just doesn't do anything special.
MsJay: Its okay, almost too commercial.
Mary: The tiny deodorant clutched next to your larger-than-life face in this picture does not work for me. I like the way your hand looks, but I think you were putting yourself before the product, and this just doesn't look like an ad to me.
Next is Jono! Best shot:
Tyra: I think its real quirky. And I get that. But not everyone gets quirky, so you have to be careful going that way for a commercial shot. I love the scene, with the fish and your matching shirt haha.
MsJay: Very theatrical/over exaggerated. It looks like you were mocking the deoderant!
Janice: Yeah, I feel like you're making fun of the product by smiling in such a way. I don't see your inner beauty at all
Mary: The background is adorable but it draws the attention away from both you and your product. It was a cute idea that would have worked well if you had made you and your product stand out a little more.
HurricaneMimi, you're next! Best shot is: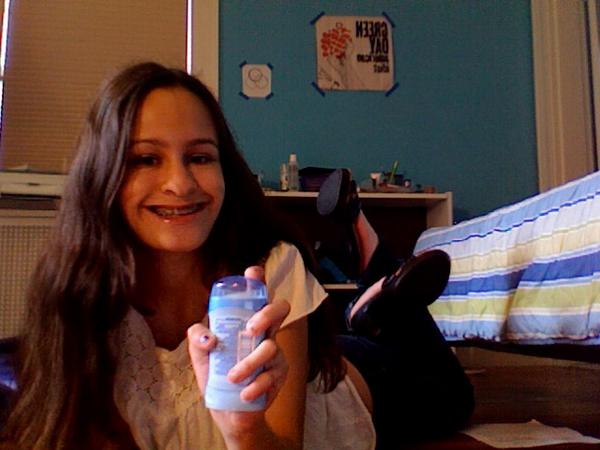 Mary: I love your pose, but if you would have turned a few degrees, your body would have looked much longer and drawn a little more attention to yourself. My biggest problem with this is that you're holding the deodorant backwards! This is a pretty picture but you can't even see the brand of what you're selling! A little more attention to detail, though, and this picture would have had me out buying Secret.
Tyra: Haha yeah, I noticed that too…Great natural smile, but your eyes aren't connecting with the camera, just make sure you are looking straight into the lens when you shoot. Otherwise, a great commercial shot!
Kazara, here's your best shot:
Mary: I adore this picture. You're pose would have looked awkward on just about anyone else, but you make it look almost graceful. You're little half-smile and eye contact really pop. This picture has a little-kid charm, and it sells the product well. Good job, it has a lot of commercial appeal.
Tyra: I actually think the pose does look a little bit awkward, and it does show a little bit in the face, but only slightly. I love how you really took a risk though and thought outside the box a little with your poses, rather than just standing there.
Janice: It's a nice shot but it seems unfocused. You moved probably during the shoot. I know this pose is difficult to hold but that's fashion. Nobody wants a crappy picture where you can't see the product clearly.
MsJay: I like your photo movements but your smile seems off. Ambreal season 9 anyone?
Avess, your best shot is:
Tyra: I love the fact that you are holding more than one deodorant. It really says "I love this deodorant so much, I bought 6!!!" Good shot. Would've been better if the can wasn't covering your face a bit, but otherwise, really good.
Mary: You rarely see such a jumble of products in ads and commercials. If you would have gotten rid of the piles of products in your arm, you could have backed up a little and used the free arm to your advantage. The close up makes me a little claustrophobic; backing up a few inches would have made a world of difference.
Janice: I'll just say three words: MAGAZINE! MAGAZINE! MAGAZINE! Avess, you did an amazing job. A client would love it. It looks like the product is the best thing in your life.
MsJay: I feel this week you really stepped it up. I thought you actually looked like you were conveying real emotion.
Tyra: Oooh, Ms Jay is bitter this week!!! :-P
Next we have, Audrey, here's your best shot: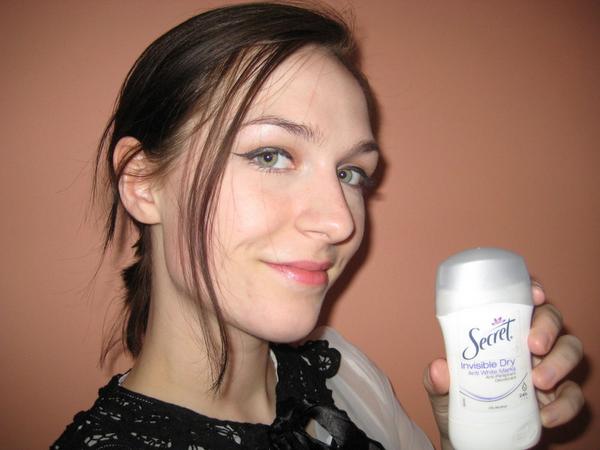 MsJay: Looks like a regular person yet a model. And when I see a commercial for secret thats what I think about. Well done.
Mary: Your eyes pop in this picture, and your jaw looks great. Your simple background and striking eyes pair with the deodorant, making this a great, effortless picture. I like this, you sell the product well
Tyra: Yeah, it is really beautiful and serene. Although you weren't that creative in making a scene, I think you really pull off this simplicity. It's just raw beauty.
Janice: I think the paleness gives you an ill look and your smile seems too forced. It looks like you came right out of your bed.
Tyra: If she had just come right outta bed and gave me that shot, I would be amazed. And I'd wanna know what kinda pillow she sleeps on and get me one of those lol.
CozyTombRez, you're up next! Best photo is:
MsJay: Ive noticed you have very big hair (not a bad thing) Im glad you finally used it towards your advantage in this shoot
Tyra: Love it. It's simple, yet its interesting. What I loved about your film was that you gave me 3 completely different shots, they weren't similar in any way. A photographer doesn't necessarily want 30 of the same kind of shots, they will want variety so they can choose which one suits them best when they get to the editing room. Well done, I love it.
Mary: This is a very creative picture with a good end result. Your smile and eyes are very pretty, and I love the idea of the Secret Deodorant resting in your hair. This looks like something I'd see inside any magazine.
Janice: I noticed that you tend to do a lot of headshots but i would love to see your great body. Over all it's interesting. It has something of a mermaid.
Finchie, last one up! Let's see your best shot:
Mary: I was on the floor thanking God for this picture when I saw it. It's absolutely perfect in my eyes. The background is great. The raised arms show you're comfortable with Secret. Your pose, your face, everything is perfect.
Janice: You look beautiful. When i see your picture i look immediately at your wonderful body and at the good presented product. But your eyes are slightly unfocused like you're not looking directly at the camera
MsJay: Ms Jay: Looks like a real ad, shows the body and is the only one that shows the area of which deodorant is sold for haha.
Tyra: Haha, yeah, I think you really thought about this shot well, you have that girl-next-door quality that a lot of buyers will relate to, and you look so friendly and approachable, its great.
THE JUDGES WILL NOW DELIBERATE.
WHEN WE RETURN SOMEBODY WILL…BE…ELIMINATED!
Last edited by Leelee_Tyra on Mon Feb 06, 2017 7:08 am; edited 1 time in total
Admin




Posts

: 98


Join date

: 2017-02-05


Age

: 30



***ELIMINATION PROCESS MISSING***

CALLOUT:

Finchie
Joey
Avess
Cozy
Audrey
Kazara
Mimi

BOTTOM 2:

Stevie and Jono

ELIMINATED:
Jono
Admin




Posts

: 98


Join date

: 2017-02-05


Age

: 30




---
Permissions in this forum:
You
cannot
reply to topics in this forum