Welcome Ladies and Men to your SEVENTH Judging Panel! There are only 3 short weeks until we crown our very first IMDB's Next Top Model!! But which one of you will not survive past today? We will find out shortly.
This week, you went Kloofing! You all made outfits out of organic materials. Overall, I was quite disappointed with this week's photoshoot and it is BY FAR your worst to date. Before we get to judging, let me introduce you to your guest judge this week, editor of Vogue Australia, Kristi Clements (Bruquita).  
Let's get to the judging!
First person up is Kazara! Let's see your best shot.
Janice: I don't like this picture at all. Yes, you're the only one without any added clothing but what about the face? You look shocked and amateurish. You have to take it to the next level.
Kristi: I love the lighting , the outfit and the pose, but the facial expression is a bit "deer in the headlights" and doesn't really work. I think some practice in the mirror, and more time in the camera to help you feel more comfortable in front of it, and you will be a terrific model.
Jay: My favorite use of natures material butttttt again like in the last shoot you have your mouth open. Your a model, not a fly catcher. You need to learn how to control that because its definatly a negative aspect of your pictures.
Tyra: Yeah, the mouth is the only thing that is really bothering me in this picture. I LOVE the shape you are creating with your body and I think once again you did a great job of creating a scenario and the story that comes across to me from this pic is "jungle girl tryin to escape from woods, but the plants won't let her!!", haha so I have to commend you for that, but you really do need to work on your mouth.
Ok, next we have Cozy! Your best shot is:
Janice: You used your materials beautifully and everything your skin and face looks lovely
Jay: I think you did the worst in making a selection of the material. It wasnt flattering to you I thought and made the shot look sloppy. I thought your face was great though
Tyra: I have to agree, I really think you could've gone a lot further with the selection of materials, you haven't really created an outfit, just slopped some mud on yourself and placed yourself among the bushes. You have such an incredible face, and I'm really glad that you are harnessing your best assets, but its good to change it up at times and take a bit of a risk!
Kristi: Gorgeous and natural- I love it. The eyes are a bit on the dead side, but getting there. You have me wondering what you are looking at, and there is a bit of sadness to the shot.
Next up is MillaJ! Let's see you Kloofing:
Janice: Really amazing. You still stand out against this gorgeous backround
Kristi: Yeah, I love how you managed to stand out in the midst of that gorgeous scenery. My one critique is that the light hits you in the wrong place...most of it is on your leg, and your face is hidden in the shadow. If you had moved over and done the same pose, this shot would have been nearly perfect. Kudos for being the only contestant to do a shot with all that background. You took a risk and it worked for you.
Tyra: Yeah I've gotta say, I was surprised that not everyone showed more background, Maybe it was that some of you didn't have the right location, I dunno, but I think it just makes this shot so much more powerful. This shot is almost perfect, I just have issues with the face, its not really connecting with me like it was in the beginning of the competition, so don't let what's going on in the house with the other contestants bother you, Joe, just do yo' thang!  
Jay: It is funny you dressed up as a cactus because you have a prickly disposition. (Lmao jk) Awesome photo, your confidence can be misunderstood for arrogance but you cant take a bad pic!
Ok, next up is Avess! Let's see your best shot.
Jay:This picture doesnt work for me. Through this competition I feel weve been getting the same look and feel from you. It wouldve been nice to see you change it up
Janice: You know I love your head shots but something is still missing. You didn't make it look like real clothing. It has something of gardening.
Kristi: This shot makes the photographer look bad! Your pose is fierce, and your eyes are getting really close to connecting to the camera. The background is a bit too busy, and the lighting is pretty terrible. If you continue on in this competition, try to find someone else to take the shots for you. But as a model, you did a good job.
Tyra: Ahh, Avess, Avess, Avess!! You were one of two who totally ignored the brief when it said "no evidence of anything man made"! There's a glass window, and painted blue lattice in your shot. I know you were dreading this shoot, but I think you just felt defeated and before starting it, thought in your head that you were going to fail. You were one of the best at the start of the competition at developing amazing and creative scenarios, but this one is just off the mark. Which sucks, because I love your expression in this shot, its something I don't think we've seen from you yet, its something a bit softer.
Ok, lucky last is Audrey! Let's see your best shot: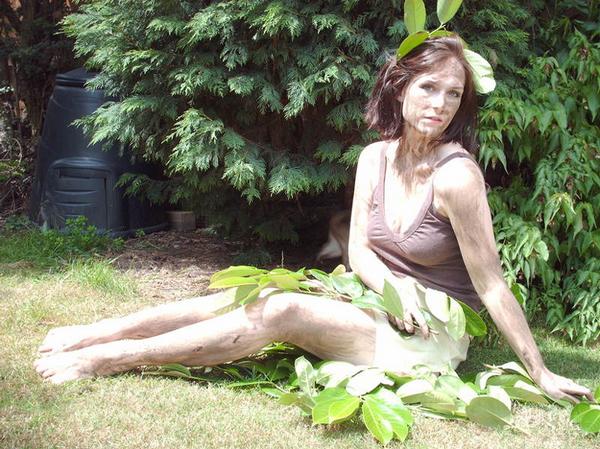 Jay: I love this pic, good use of material and you have a very versatile look in photos Janice: I really love your face in this shot. It doesn't even matter that it's covered by mud. I think it's the best shoot out of the bunch
Kristi: Beautiful shot. The pose and lighting are really beautiful. Here are my critiques: 1) Your face is a bit tense. Practice in the mirror relaxing your jaw. 2) If you had moved over, the composter could have been cropped out without making you look amputated in the process. All in all, it's a terrific shot.
Tyra: Im glad you mentioned that Kristi! Audrey, you were the other person who showed signs of man made structure with the compost bin. You lose points for that with me, but at the same time, I couldn't give a damn coz your face is just so gorgeous and the light is hitting you perfectly! And I don't think the judges know this yet, but she actually made the skirt herself out of organic cloth! So that's great!
Ok, everyone, I will now ask you to leave the room while the judges deliberate on what will be another extremely tough elimination. See you soon!
Admin




Posts

: 98


Join date

: 2017-02-05


Age

: 30



***ELIMINATION PROCESS MISSING***

CALLOUT ORDER:

Joey
Audrey
Kazara

BOTTOM 2:

Cozy and Avess

ELIMINATED:

Avess
Admin




Posts

: 98


Join date

: 2017-02-05


Age

: 30




---
Permissions in this forum:
You
cannot
reply to topics in this forum